Christopher Eagle, REALTOR®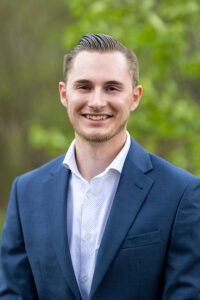 Christopher Eagle was born and raised right here in Charlottesville, Virginia. He is a product of Albemarle County Public Schools. Being someone who was raised here, he has the knowledge of this area and surrounding areas to help anyone find the right home and community they are searching for. 
Being a native of this area, Christopher wanted to explore other places as he went to Ohio University to receive a Bachelor's Degree in Photography, which he still uses today in the real estate world. From graduating in 2015 to getting into the real estate industry in 2016, Christopher has one goal in mind and that is to serve people. He believes serving people is the key to success in the real estate world and he lives that out every day.
Christopher understands the advice and guidance he gives people can help them for years to come. He uses his passion, energy and integrity to be an advocate for his clients and help them reach their goals. Christopher likes to set himself apart by marketing in a unique way. He does this by continually building a brand that people can trust while also using his knowledge to give real estate advice to others along with a little entertainment. 
When Christopher is not helping his clients achieve their real estate goals you can find him spending time with his lovely and beautiful wife, Ashley. He also enjoys being in the gym or running because he is usually training for the next Spartan Race. You can also find him at The Point Church on Sunday's and volunteering throughout the week. Christopher's favorite hobbies are spending time with his family and friends, trying new restaurants and traveling – especially to Disney World. He also enjoys being a movie buff and a huge fan of classic cars and muscle cars.
Whether you are new to Charlottesville or you've been here for almost all of your life like Christopher, let him help you reach your next goal when it comes to real estate! 
Stay in the loop. Get The YES Realty Partners Newsletter!